As a powerhouse for scientific innovation and talent training in the west of the Guangdong-Hong Kong-Macao Greater Bay Area, the University of Macau (UM) is committed to promoting scientific research and academic exchange within the area. Recently, UM attended the opening ceremony of the annual Guangdong-Hong Kong-Macao University Alliance Young Scholars Forum and signed an agreement to become one of the key members of the Guangdong-Hong Kong-Macao University Engineering Alliance. The alliance aims to combine the strengths of different universities within the area so as to create more opportunities for teaching, learning, and research for young talent.
Other members of the Guangdong-Hong Kong-Macao Engineering Alliance include Hong Kong University of Science and Technology, South China University of Technology, Sun Yat-sen University, and Harbin Institute of Technology (Shenzhen). At the forum, experts and scholars discussed the role and responsibilities of the Greater Bay Area in the healthy development of China.
UM Rector Yonghua Song pointed out that the Greater Bay Area is densely populated and has a huge demand for medical and health equipment. In response to this demand, UM has been actively promoting the development of advanced medicine in recent years, signing agreements with universities in the area and establishing joint laboratories to support world-class research in the field. He added that although the coronavirus pneumonia brought challenges to the area, it also taught a valuable lesson in how to handle public health crises.
This three-day event was held both online and offline. Participants exchanged ideas on a wide range of topics, including public health, library information management, interdisciplinary sciences (computation and theory), and robotics technologies. Many  UM scholars were invited to attend the event, including Prof Huang Mo and Prof Cai Yongqing in the Faculty of Science and Technology, Prof Xiang Yutao in the Faculty of Health Sciences, and Pun Nga Ian and Lei Chong Meng in the university library.
澳門大學作為粵港澳大灣區西岸科創和人才培養基地,一直致力推動三地的科研建設與學術交流。在一年一度的粵港澳高校聯盟青年學者論壇,澳大正式簽約成為粵港澳高校工科聯盟要員之一,期望匯聚三地精英學府的力量,為灣區內青年開拓更多教與學和研究發展的機會。
粵港澳高校工科聯盟成員包括香港科技大學、華南理工大學、中山大學、哈爾濱工業大學(深圳)及澳門大學。論壇上,專家學者們圍繞"健康中國,灣區擔當"的主題,共同商討大灣區在中國健康發展的角色與責任。
澳大校長宋永華以"健康灣區"的支撐及推動為題,指出灣區人口密度高,對於醫療健康設備有龐大需求。為此,澳大近年致力推動精進醫學發展,與灣區高校簽訂協議及組成聯合實驗室,以建設世界一流醫藥研究及發展平台。今年的新型冠狀病毒肺炎雖為灣區帶來了挑戰,同時也提供了寶貴的經驗,未來澳大將繼續創新,以解決影響未來人類健康的不穩定因素。
是次學術盛事為期三天,以線上結合線下的形式進行,內容涵蓋公共衛生、圖書館資訊管理、交叉科學計算及理論、機器人科技等,為不同學府的學者,在跨學術領域交流新知,推動灣區内學術和商業協作交流提供了寶貴機會。澳大多名學者及教授皆獲邀參與,包括澳大科技學院教授黃沫及蔡永青、健康科學學院教授項玉濤、澳大圖書館潘雅茵和李仲明也獲邀分享。
Yonghua Song gives a speech online
宋永華校長在線演講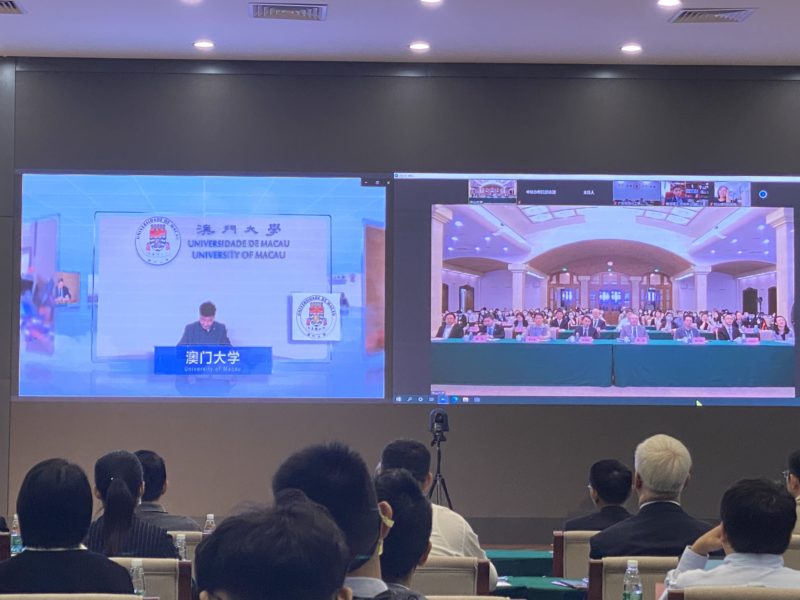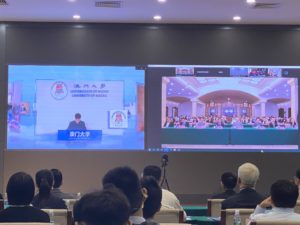 UM becomes an official member of the
Guangdong-Hong Kong-Macao University Engineering
Alliance via an online agreement signing ceremony
澳大在線簽約成為粵港澳高校工科聯盟要員