An award ceremony for winners of the 2020 State Scientific and Technological Progress Award was held today (3 November) in Beijing. Party and state leaders, including Xi Jinping, Li Keqiang, Wang Huning, and Han Zheng attended the ceremony and presented the awards to the winners or their representatives. The project titled 'Key Technologies and Applications of Demand-side Load Regulation of Power Systems with a High Proportion of New Energy Sources', of which University of Macau (UM) Rector Yonghua Song is the first author, won a second prize of the State Scientific and Technological Progress Award for the year 2020.
The power sector is the largest single contributor to China's carbon emissions (accounting for about 37 per cent of the country's total carbon emissions). The development of new sources of clean energy represents a global trend towards low-carbon energy systems. By the year 2020, China is estimated to have the world's largest installed capacity for wind and solar energy (530 million kilowatts), which will account for 24.3 per cent of total installed capacity worldwide. Moreover, this capacity is projected to maintain rapid growth over the next 30 years.
The instability of large-scale new-energy-based power generation requires the power system to provide flexible regulation resources to balance the instability. However, the current capacity, speed, and accuracy of regulating resources on the generation side, as is the case with thermal power, are no longer sufficient to support high-proportion new energy access.
Rector Song's team achieved a number of breakthroughs with their award-winning project: They proposed a new pathway for flexible load regulation capacity to follow the changes in power generation; they developed innovative theories and methods; they invented key technologies; they built a demand-side load regulation system containing a high proportion of new-energy-based power systems. Not only has this system found extensive applications in China and abroad (it has been successfully used in the power transmission grids in 11 provinces and cities in China), but it is also expected to play a major role in supporting China in the realisation of its 'Dual Carbon' goals (which refer to China's two climate goals announced by President Xi at the 75th session of the United Nations General Assembly in September 2020) and in supporting Macao's low-carbon development strategy.
Rector Song has been long engaged in research on power system analysis and control, and he has attained world-class achievements in large-scale new energy consumption and safe operation of power systems. In recent years, he has received four first prizes of the State Scientific and Technological Progress Award in the natural sciences category and the scientific and technological progress category at the provincial or ministerial level as the first author, as well as the Prize for Scientific and Technological Progress in the category of mechanical and energy technologies from the Ho Leung Ho Lee Foundation. In 2018, he founded the State Key Laboratory of Internet of Things for Smart City at UM, which later passed the inspection by the Ministry of Science and Technology. He is currently leading a key research project commissioned by the Science and Technology Development Fund of Macao; the project aims to contribute to the realisation of carbon neutrality goals in Guangdong, Hong Kong, Macao, and key cities in China. Due to epidemic prevention requirements, Rector Song was unable to attend the award ceremony in person.
A total of 264 projects, ten experts, and one international organisation were selected for the 2020 State Scientific and Technological Progress Award, in the following categories: natural sciences (46 prizes in total, with two first prizes and 44 second prizes), technological invention (61 prizes in total, with three first prizes and 58 second prizes), and scientific and technological progress (157 prizes in total, with two grand prizes, 18 first prizes, and 137 second prizes). Eight foreign experts and one international organisation received the International Science and Technology Cooperation Award of the People's Republic of China.
Source: Research Services and Knowledge Transfer Office
國家科學技術獎勵大會今(3)日在北京隆重舉行,習近平、李克強、王滬寧、韓正等黨和國家領導人出席並向獲獎代表頒獎。澳門大學校長宋永華作為第一完成人的項目"含高比例新能源的電力系統需求側負荷調控關鍵技術及工程應用"獲2020年度國家科學技術進步獎二等獎。
電力行業是中國碳排放單一佔比最大的行業(佔全國總碳排約37%)。發展清潔新能源是能源低碳轉型的全球趨勢。中國至2020年風光新能源裝機容量居世界第一,達5.3億千瓦,裝機容量佔比達24.3%,且未來30年將保持快速增長。大規模新能源電力的不確定性與波動性亟需電力系統提供相應的靈活調控資源加以平衡,但僅僅依靠如火電等發電側資源,其調節容量、速度與精度已難以支撐新能源的高比例接入。宋永華牽頭的項目提出了靈活負荷調節能力跟隨發電變化的新路徑,形成了創新的理論、方法和發明了關鍵技術,領導研發了含高比例新能源電力系統需求側負荷調控系統,規模化成功應用於中國11個省市電網並出口國外,形成的成果對國家實現「雙碳」戰略目標具有重要的支撐作用,亦可應用於澳門低碳城市建設。因防疫要求,宋永華未能親自出席是次奬勵大會。
宋永華長期從事電力系統分析與控制研究,在大規模新能源消納和電力系統安全運行等方面做出了具有國際領先水平的系統性、創造性的成就。近年來以第一完成人獲省部級自然科學或科技進步獎一等獎4項,獲何梁何利基金科學與技術進步獎(機械電力技術)。2018年在澳大組建了"智慧城市物聯網國家重點實驗室"並通過國家科技部驗收,目前牽頭承擔了澳門科技發展基金重點專項"綜合能源物聯網的智能協同管控與防護關鍵技術及應用研究",為未來粵港澳及國家重點城市的碳中和目標貢獻澳門力量。
2020年度國家科學技術獎共評選出264個項目、10名科技專家和1個國際組織。其中,國家自然科學獎46項,一等獎2項,二等獎44項;國家技術發明獎61項:一等獎3項,二等獎58項;國家科學技術進步獎157項:特等獎2項,一等獎18項,二等獎137項。有8位外國專家和1個國際組織獲中華人民共和國國際科學技術合作獎。
新聞來源:研究服務及知識轉移辦公室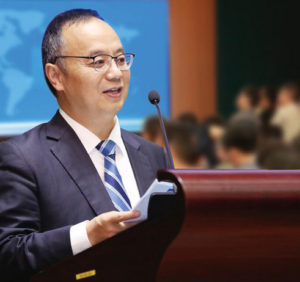 Award winner Yonghua Song
獲獎人宋永華校長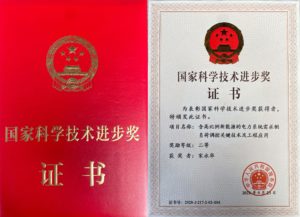 The certificate of recognition
獲奬證書