Prof Tam Kam Weng in the Department of Electrical and Computer Engineering, Faculty of Science and Technology (FST), University of Macau (UM), has received the Ted Williams Award from the Association for Automatic Identification and Mobility – AIM Global, the world's largest organisation in automatic identification and mobile technology. Of the six industrial award recipients for 2020, Prof Tam is the only one from Macao. 
Prof Tam is dedicated to the study of wireless communication, which has earned him an international reputation in the fields of RFID technology and microwave sensors. He has received numerous honours and has been serving in various important positions in the industry since 2014. He is a fellow of the Institution of Engineering and Technology, a chartered engineer of the United Kingdom, a member of the Institution of Engineering and Technology's review committee for chartered engineers, vice president of the Institute of Electrical and Electronics Engineers (IEEE) Council on RFID, and a recipient of a scholarship from the European Union for visiting professors. In addition, Prof Tam has received various awards from the Macao Science and Technology Development Fund (FDCT), namely the Natural Science Award, the Technological Invention Award, and the Science and Technology Progress Award. He also serves as a member of the Technical Accreditation Committee and a consultant for radiation safety research of the Macao SAR government. He has published more than 200 papers and obtained a total of five patents, in China and abroad.
With the financial support of from FDCT (Project No.: 015/2013/A1 and 042/2006/A3), Prof Tam has invented a novel planar circularly-polarised antenna based on complementary dipole antenna elements. The design greatly reduces the profile for handheld RFID readers. An ESI paper on the study has been published and frequently cited by industry experts. In addition to research, Prof Tam has provided assistance to the establishment of Macao's first high-tech RFID company, which was founded by local master's degree graduates in related research fields. The company facilitates industry-academia collaboration by providing intelligent asset management services for public and private institutions in Macao. During his term as the vice chairman of the IEEE Council on RFID, Prof Tam successfully organised four large-scale international conferences for RFID applications in Europe and Asia; these conferences were attended by more than 1,000 scholars and industry practitioners from the two continents, who exchanged ideas on industry-academia collaboration.
Founded in 1972, AIM Global is the largest international organisation in the global automatic identification and mobile technology industry. Its members are well-known companies from around the world, including INTEL, NXP Semiconductors, and Zebra Technologies Corporation. It is mainly focused on key technologies that support smart economy, including barcode technology, radio frequency identification technology, and smart card identification technology. In the past 40 years, AIM Global has been committed to the development of international standards for automatic identification and mobile technology, as well as collaboration with the International Organization for Standardization (ISO) in formulating international standards in related fields. In recent years, the one- and two-dimensional barcode technologies widely used in the world, in applications such as mobile payment and goods identification, are important examples of the international standards developed by the association. In 2007, AIM Global established the Ted Williams Award, which is presented annually to experts and scholars who have made outstanding contributions to the global industry in the application of automatic identification and mobile technology. Previous winners include scholars from world-renowned universities, including the University of Pittsburgh, the Georgia Institute of Technology, and Ohio University. 
澳門大學科技學院電機與電腦工程系教授譚錦榮獲全球最大的國際自動識別與移動技術協會(Association for Automatic Identification and Mobility——AIM Global) 頒發《泰德威廉斯獎》(TED WILLIAMS AWARD),是該會今屆6項工業獎獲獎人士中唯一的澳門專家學者。
譚錦榮長期從事無線通訊領域的研究,並在射頻識別技術、微波傳感器等領域享有國際聲譽。2014年起先後當選英國工程技術學會會士、英國特許工程師、英國工程技術學會特許工程師評審委員委員、美國電氣和電子工程師協會射頻識別技術議會副主席、歐盟訪問教授學者獎學金獲獎者;曾獲澳門科學技術獎的自然科學獎、 技術發明獎和科技進步獎三獎;是澳門特別行政區政府認可技術委員會委員、澳門特別行政區政府無線電輻射安全研究顧問。發表論文200餘篇,國內外發明專利5項。
譚錦榮憑藉澳門特別行政區科學技術發展基金(檔案編號:015/2013/A1及 042/2006/A3)資助,成功研發國際上首創的互補型的偶極子天線單元實現平面端射圓極化天線,大幅度降低了射頻識別技術閱讀器手持機的剖面高度,縮小手持機大小以及減少了系統的加工製作成本,發表的高水準ESI 高被引論文廣受工業界專家等引用。亦推動了參與相關研發的本澳研究畢業生創立了澳門首家提供射頻識別解決方案的高科技公司,為澳門公私機構提供智能資產管理服務,推進成果產業化。譚錦榮任美國電氣和電子工程師協會射頻識別技術議會副主席時間成功完成四次大型歐、亞射頻識別技術應用會議交替,推進逾千歐洲和亞洲學術界及工業界人員產學術可研交流。
AIM Global成立於1972,為全球自動識別與移動技術工業界中最大的國際組織,成員來自全球的知名企業例如INTEL、NXP Semiconductors和Zebra Technologies Corporation等。涉及技術領域為智慧經濟信息化建設的重要核心支撐科技,包括條碼技術、射頻識別技術、智能卡識別技術等。在過去40多年,AIM Global致力於國際自動識別與移動技術標準制訂以及,與國際標準化組織 (ISO) 合作制訂相關領域的國際標準,近年全球廣泛使用的流動支付和貨物辨別的一維、二維條碼技術是協會重要國際標準例子。AIM Global於2007年設立TED WILLIAMS AWARD,每年經過嚴格評審,評定出對全球自動識別與移動技術工業界應用上有卓越貢獻的專家學者予以嘉許獎勵。歷屆得獎者均來自全球著名學府如匹茲堡大學、佐治亞理工學院、俄亥俄大學等。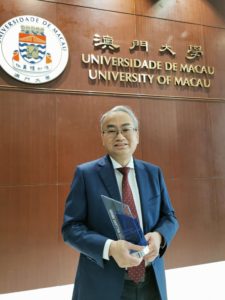 譚錦榮教授
Prof Tam Kam Weng