Huang Hongliang, a postgraduate student in the Department of Mathematics, Faculty of Science and Technology (FST), University of Macau (UM), recently won a first prize at 'Huawei Cup' — the 19th China Postgraduate Mathematical Contest in Modelling. The competition attracted a total of 17,970 teams from more than 400 universities and research institutes around the world, with only 1 per cent of the teams winning a first prize.
Each team in the contest had three members. Huang was the leader of his team, which was formed by two other university students from Macao. During the contest, they were required to answer questions and submit papers within a limited time. The students demonstrated their ability to solve practical problems by building mathematical models and using information technology. After two months of rigorous assessment by the judging panel, Huang's team was awarded a first prize.
The 19th China Postgraduate Mathematical Contest in Modelling placed an emphasis on cutting-edge and practical problems in various disciplines. Held for the first time in 2003, the competition has attracted students from hundreds of universities worldwide over the years. The event aims to foster team spirit and a creative mindset among postgraduate students, promote talent development in science and technology, facilitate the development of postgraduate education, and strengthen exchange and cooperation between universities and enterprises.
With an international education setup, UM is committed to producing talent with innovative thinking skills, a global mindset, and international competitiveness. The university has established cooperation platforms with its counterparts around the world to provide diverse opportunities for learning and academic exchange for its students. The university also encourages and supports students to participate in international competitions to broaden their horizons and enhance their competitiveness. Prof Lei Siu Long in the Department of Mathematics of the FST is Huang's supervisor. He and other professors in the department have been encouraging students to actively participate in mathematical modelling competitions. The professors also provide pre-competition counselling to help students consolidate their knowledge and stimulate their interest in pursuing mathematical knowledge.
澳門大學科技學院數學系研究生黃鴻亮在第十九屆"華為杯"中國研究生數學建模競賽中擔任隊長並榮獲全國一等獎。競賽吸引全球共400多所大學、研究院等單位共17,970隊隊伍參與,獲一等獎比例僅為1%。
競賽隊伍以3人為一組,隊長黃鴻亮聯同另外兩名澳門科技大學及澳門城市大學學生組成參賽隊伍,在限時內回答試題及提交論文,展現建立數學模型和運用互聯網資訊技術解決實際問題的實力。經專家委員會兩個月的嚴謹評核後,最終黃鴻亮的隊伍奪得一等獎。
第十九屆"華為杯"中國研究生數學建模競賽集中了各學科領域前沿且應用性較強的實際問題。自2003年舉辦至今已吸引國內外數百所大學參與,目的是建立研究生們團隊和創新精神、促進青年科技人才培育、推動研究生教育發展以及繼續拓展大學與企業間的交流合作。 
澳大秉承國際多元化的辦學特色,致力培養具創新思維、國際視野及全球競爭力的人才,積極為學生搭建國內外合作平台,以提供多元學習及學術交流的機會;同時也鼓勵並支持學生參加各項國際比賽,以開拓視野及提升競爭力。澳大科技學院數學系教授李兆隆是黃鴻亮的指導老師,他與多位數學系教授經常鼓勵學生積極參與數學建模競賽,並進行賽前輔導工作,引導他們鞏固基礎,激發了學生追求數學知識的熱情,盡展學生所長。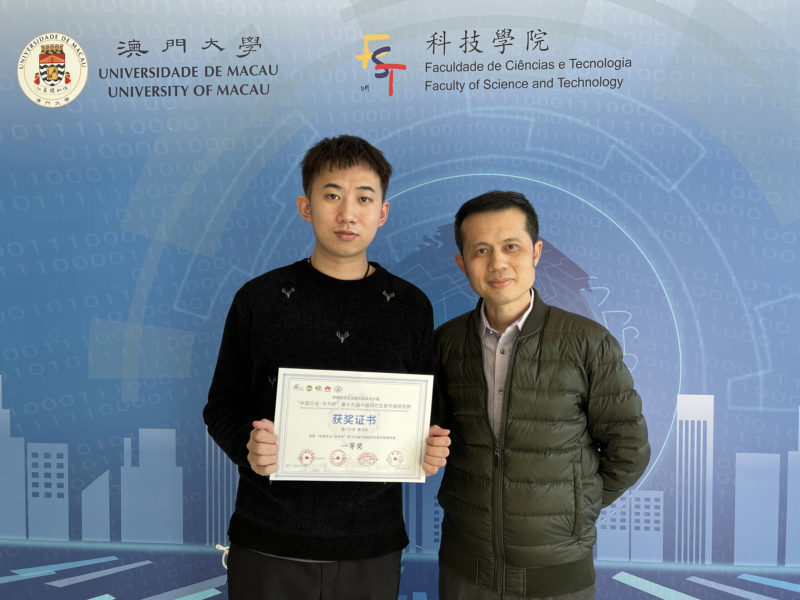 Huang Hongliang and Prof Lei Siu Long (right)
黃鴻亮及李兆隆教授(右)