UM students won second prize at a national mathematical modelling contest
A student team from the University of Macau (UM) received second prize at the 2020 Contemporary Undergraduate Mathematical Contest in Modeling of China (CUMCM). This is the seventh consecutive year that UM has received prizes at this contest. This year's contest attracted 45680 teams from different countries, including 4 teams from Macao.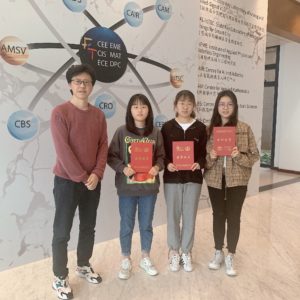 The UM team was comprised of three students GAO Houpu, TIAN Yuan and YAN Jia, led by Associate Professor LIU Zhi from the Department of Mathematics.
Organized by the China Society for Industrial and Applied Mathematics, the CUMCM is a national contest in the field of mathematical modelling. It is also the largest mathematical modelling contest in the world. This year's contest attracted more than 130,000 students in 45680 teams from 33 provinces, cities, and autonomous regions of China, as well as from other countries, such as USA, England and Malaysia. Only about 4% of the teams received first or second prizes.
Department of Mathematics has made efforts to improve the students' skill of mathematical modelling and data analysis. The department established a committee of mathematical modeling consisting of three professors to provides consultancy and support to the students around the university; in addition, a sub-organization of UM Student Union entitled Mathematical and Interdisciplinary Modeling Association is formed and another one entitled R-Club is under preparation. In recent years, in addition to the CUMCM, UM students have also received prizes at some other modeling contests, from Macau, United States and China, which shows that the training provided by department is very effective.
澳大學生獲全國大學生數學建模競賽二等獎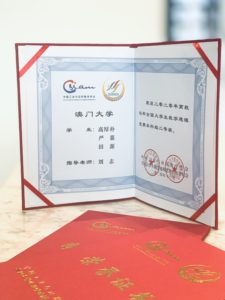 澳門大學派出兩支學生隊伍參與2020年度全國大學生數學建模競賽,與全國4萬5千支學生隊伍較量。憑卓越表現脫穎
而出,獲得全國二等獎一項,這是澳大學生連續7年在此賽事獲獎。澳大獲獎隊伍由數學系高厚朴,田源以及嚴嘉三位同學組成,以及由澳大數學系劉志副教授指導。
由中國工業與應用數學學會舉辦的全國大學生數學建模競賽,為現時全國高校規模最大的基礎性學科競賽,也是世界上規模最大的數學建模競賽。本屆比賽於2020年9月10日至13日舉行,共吸引了來自全國33個省,市,自治區,香港和澳門特別行政區,以及美國、英國和馬來西亞的1470所院校,45680個隊,超過13萬名大學生報名參加。獲獎率僅為4%。
數學系近年來非常重視澳大學生數學建模與數據分析能力的培養,開設了數學建模課程;建立了由三位教授組成的數學建模諮詢委員會;由學生組織成立了澳大學生會數學與交叉學科建模學會,並即將成立R-Club,強調提高學生的數學應用以及編程能力。近年來,不同專業學生對數學建模的興趣明顯提高,澳大學生組成的隊伍連續多年在各種建模競賽中獲獎,說明數學系對學生所開設的建模培養已取得成效。