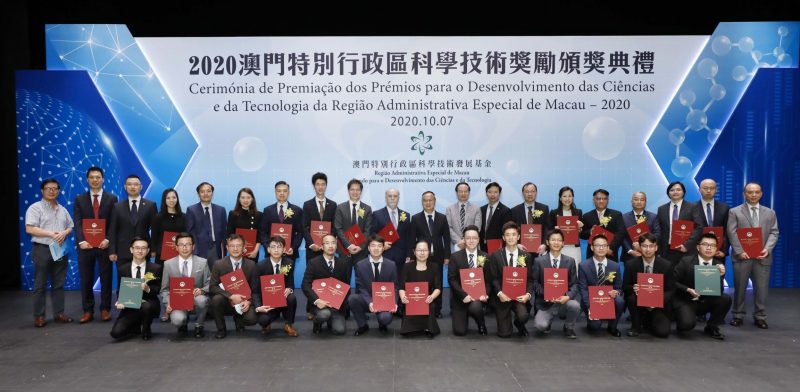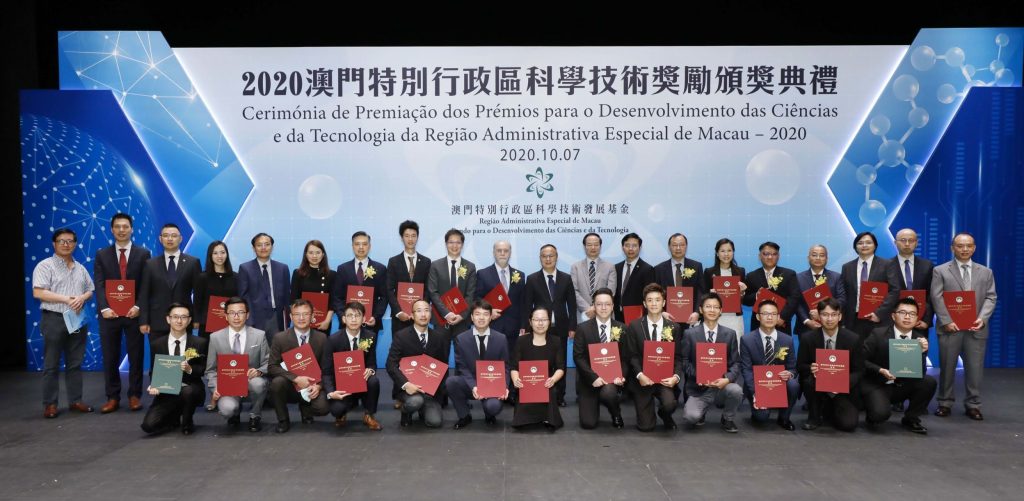 The Macao SAR government today (7 October) presented the Macao Science and Technology Awards 2020. The University of Macao (UM) has won 11 awards, accounting for nearly 70 per percent of all the awards presented this year. UM's postgraduate students have also performed very well, with 13 doctoral students and three master's students receiving the Scientific and Technological R&D Award for Postgraduates.
Out of the 16 prizes, UM has received 11 prizes, including three second prizes and three third prizes in the Natural Science Award category; a first prize, a second prize, and two third prizes in the Technological Invention Award category; as well as a third prize in the Science and Technology Progress Award category.
Greta Mok, an associate professor in the Faculty of Science and Technology at UM, is the only female scholar from Macao to receive an award this year. In her speech, Prof Mok said that for those scientific researchers who have made Macao their homes, it is a tremendous honour to receive the Macao Science and Technology Awards, which represent the highest form of recognition and commendation for their work. She added that she and her fellow researchers would continue to work hard in order to meet the expectations of the SAR government and the country, give full play to their strengths, enhance collaboration with researchers and institutions in the Greater Bay Area, and strive to industrialise their inventions to benefit the public. Prof Mok further said that they would never forget why they chose a scientific career in the first place, and would continue to pursue excellence and nurture young scientists in order to contribute to the sustainable development of Macao.
UM's research strategy can be summarised as 'focusing on key areas', 'making use of advantages', 'creating peaks', 'highlighting characteristics', and 'strengthening cooperation'. In addition to giving priority to disciplines that reflects both Macao's unique characteristics and global trends, the university also provides full support to the three state key laboratories (focused on quality research in traditional Chinese medicine, microelectronics, and internet of things applications for smart cities, respectively), three emerging research fields (precision medicine, advanced materials, and regional oceanology), as well as three interdisciplinary research fields (artificial intelligence and robotics, cognitive and brain sciences, and data sciences), in order to encourage interdisciplinary collaborations, especially the integration of humanities and social sciences with modern technology.The awards represent official recognition of the university's research capacity and will motivate the university to continue to promote technological innovation, industry-academia collaboration, and technology transfer.
Below is a list of the awards received by UM and the key persons involved in the award-winning projects:
 

Category

Award

Key Personnel

Project

Natural Science Award

Second Prize

Yuen Ka Veng

Bayesian Methods for Structural Dynamics: from Offline to Real-Time

Philip Chen, Liu Zhulin, Feng Shuang

Research on New Discriminative and Generative Learning Methods: Broad Learning
System and Generative Fuzzy Networks

Zhu Lei, Tam Kam Weng, Choi Wai Wa, Yang Li, Qiu Leilei

Research on Multi-Mode Resonance Structure and Its Application in Wideband Microwave Circuits

Third Prize

Mok Seng Peng

Nuclear Medicine Physics and Its Applications in Precision Medicine

Zhou Yicong

Image Encryption Technologies and Applications

Li Shaoping, Zhao Jing, Wang Lanying

Study on Macau Mushroom

Technological Invention Award

First Prize

Mak Pui In, Yin Jun, Chen Yong, Law Man Kay, Rui Paulo da Silva Martins

Enabling Internet-of-Everything (IoE) Connectivity with Advanced Electronic Chips

Second Prize

Chan Chi Hang, Zhu Yan, Lu Yan, Sin Sai Weng, Rui Paulo da Silva Martins

Leading-Edge-Efficiency Data and Power Conversion Integrated Circuit Designs for
Emerging Systems

Third Prize

Wang Ruibing, Lee Ming-Yuen, Gao Cheng

The Development of User-friendly Formulation of Paraquat

Lee Ming-Yuen, Hoi Pui Man, Chen Ging

High-throughput Microfluidic Small Whole-organism Screening System and Its Use in Pharmaceutical Research and Environmental Monitoring

Science and Technology Progress Award

Third Prize

Tam Kam Weng、Cheang Ka Heng、Cheang Chan Pong、Cheong Man Hoi

Research on Key Technologies of UHF RFID Antennas for Intelligent Public Asset Management
澳門特區政府今(7)日頒發"2020年度澳門科學技術獎",澳門大學囊括近七成、共11項科學技術奬。另外,澳大研究生表現也非常出色,13名博士生及3名碩士生獲頒研究生科技研發獎。
經過激烈競爭,澳大在16個科學技術奬項中獲得11個,分別是自然科學二等獎3個、三等獎3個,技術發明一等獎1個、二等獎1個、三等獎2個,科技進步三等獎1個。
是次唯一獨立獲獎的澳門本土女性學者、澳大科技學院副教授莫昇萍代表致辭時表示,對一眾在澳門紮根的科研工作者來說,獲得澳門科技獎是一項崇高的榮譽,是對研究團隊工作的最大肯定與褒獎。他們將積極落實特區政府與國家的期望,發揮自身優勢加強與灣區的合作,努力將各樣發明產業化,真正造福巿民,同時不忘初心,繼續追求卓越並以培育新一代為己任,為科學的傳承與澳門的發展出一分力。
澳大在科研方面採取突出特色、發揮優勢、構建高峰和加強合作的策略,以問題為導向,重點支持既具澳門特色,又順應國際發展潮流的研究方向。學校全力支持三個國家重點實驗室(中藥質量研究、微電子和智慧城市物聯網)、三個重點研究方向(精準醫學、先進材料和區域海洋)、三個交叉研究領域(人工智能與機器人、認知與腦科學和數據科學),以及三個人文研究平台(澳門研究中心、亞太經濟與管理研究所、人文社科高等研究院)的研究發展。鼓勵跨學科合作,打破學科壁壘,尤其是人文社會科學和現代科技的結合。是次獲獎是對澳大科研實力的高度認可和鼓勵,大學將繼續推動科技創新、產學研發展及技術成果轉化。
澳大獲獎項目及名單如下:
 

獎勵類型

獎勵等級

獲獎人

項目名稱

自然科學獎

二等獎

阮家榮

結構動力學的貝業斯方法: 從線下到實時

陳俊龍、劉竹琳、馮霜

新型判別式和生成式學習方法研究: 寬度學習網络及生成模糊網络

祝雷、譚錦榮、蔡偉華、楊力、邱雷雷

多模諧振結構的研究及其在寬頻微波電路中的應用

三等獎

莫昇萍

核醫學物理研究及其於精準醫學的應用

周怡聰

圖像加密技術及其應用研究

李紹平、趙靜、王蘭英

澳門蕈菌研究

技術發明奬

一等獎

麥沛然、殷俊、陳勇、羅文基、Rui Paulo da Silva Martins

創建萬物連網關鍵微電子芯片

二等獎

陳知行、諸嫣、路延、冼世榮、Rui Paulo da Silva Martins

應用於新興系統具前沿能效的數據及電源轉換集成電路設計

三等獎

王瑞兵、李銘源、高成

環境友好百草枯新劑型的開發

李銘源、許貝文、陳勁

用於藥物研發和環境監測的基於微流控技術大規模活生物體篩選系統

科技進步奬

三等獎

譚錦榮、鄭家興、鄭振邦、張文海

面向智能公共資產管理的超高頻識別天線關鍵技術研究與應用