The University of Macau (UM) today (11 December) held the Ceremony for the Conferment of Honorary and Higher Degrees 2021. This year, more than 1,181 students from PhD degree programmes, master's degree programmes, and postgraduate certificate/diploma programmes received graduation certificates. At the ceremony, Secretary for Social Affairs and Culture of the Macao SAR Ao Ieong U, acting as the representative of Macao SAR chief executive and UM chancellor, said that UM has continuously enhanced its academic characteristics and strengths and has achieved remarkable progress in many areas.
In her speech, Secretary Ao Ieong said: 'The year 2021 marks the 40th anniversary of UM. In recent years, the university has played an essential role in developing higher education in Macao and actively supported the SAR government's policy initiatives. By continuously enhancing its academic characteristics and strengths, UM has been committed to nurturing more innovative talent and socially responsible citizens with both a global mindset and international competitiveness who also love China and Macao. The university has continued to promote technological innovation and the transfer of research results to serve the local community in all aspects, and has achieved remarkable progress in many areas.'
She added: 'Going forward, the SAR government will continue to support the university in nurturing more outstanding talent by making best use of its multicultural campus, its holistic education system with colleges and faculties, and its international mode of operation. We also hope that UM will seize opportunities, actively participate in the development of the Guangdong-Hong Kong-Macao Greater Bay Area, accelerate the transfer of technological achievements, and proactively assist in Macao's drive towards measured diversification in economic development.'
In his speech, UM Rector Yonghua Song said: 'After four decades of development, the university now finds itself in a world characterised by profound changes and rapidly evolving technologies. With continuous adaptation and innovation, as well as a proactive attitude and investment, we will be able to respond to the new requirements for talent nurturing and technological innovation brought about by the current situation and trends.'
Rector Song also shared three of his expectations for the graduating students. First, He encouraged the students to set goals for themselves and be brave to tackle challenges: 'I hope that you all will hold fast to your beliefs and set ambitious goals, and that you will, in a time of change, step up and deliver your best in addressing the exigencies of our time with courage and determination. This will ensure that you can make the most of your prime years and become pillars of our society.' Second, he inspired the students to be pioneers in their fields: 'Whatever your future careers or positions, when it comes to pursuing your ideals and ambition, you will do well to keep your feet firmly on the ground and at the same time embracing the spirit of pioneering and innovation with wisdom. I hope that you can remain energetic, dynamic, open-minded and confident, and always stand at the forefront of innovation-driven development. In this way, you will become outstanding talents who can lead trends and contribute to social progress.' Third, he motivated the students to build resilience and perseverance: 'Youth shines through hardships; life is elevated through hard work. I hope that you will display true grit in your future endeavours, meet challenges and difficulties courageously like a ship breaking through the wind and waves, and press forward with an indomitable will, so that you will become a strong and resilient young generation that can shoulder major responsibilities.'
In his speech, Li Chi On, representative of this year's graduates, thanked those who did their best to keep everyone safe during the COVID-19 pandemic and expressed his gratitude towards his professors, classmates, and parents.
He also shared his motto 'Live each day as if it were your last' with the audience and a personal experience shortly after his arrival at UM: 'I found myself walking on the grass rather than following the stone pavement just to get to the classroom a little earlier. A few days later, some stepping stones were placed exactly where I had walked. I found out that I had made a path. Dear Graduates, don't be afraid when you are walking on a path "less traveled by". We can make our own path. And now, as we leave UM to begin a new journey, I wish that all of us can find our own path to a bright future.'
This year, a total of 1,181 students from the Faculty of Arts and Humanities, Faculty of Business Administration, Faculty of Education, Faculty of Health Sciences, Faculty of Law, Faculty of Science and Technology, Faculty of Social Sciences, Institute of Applied Physics and Materials Engineering, Institute of Chinese Medical Sciences, and Institute of Collaborative Innovation received their graduation certificates. Among these students, 250 are from PhD degree programmes, 878 are from master's degree programmes, and 53 are from postgraduate certificate/diploma programmes.
Source: Communications Office
澳門大學今(11)日舉行"2021年榮譽學位及高等學位頒授典禮",1,181名博士、碩士和學士後證書/文憑課程的學生獲頒畢業證書。典禮上,行政長官兼澳大校監代表、社會文化司司長歐陽瑜表示,澳大不斷強化辦學特色和發揮辦學優勢,在多方面、多領域都取得了顯著的進步。
歐陽瑜指出,2021年是澳大建校40週年,澳大一直在澳門高等教育發展中擔當重要的角色。近年來,澳大緊扣國家重大發展戰略,積極配合特區政府的各項施政部署,不斷強化辦學特色和發揮辦學優勢,致力為國家、為澳門培養更多具家國情懷、國際視野、全球競爭力和有社會責任感的公民和創新型人才,持續推進科技創新及成果轉化,全方位服務澳門社會,在多方面、多領域都取得了顯著的進步。特區政府將繼續支持澳大發揮多元文化的校園環境,協同學院與書院的全人教育體系以及國際化的辦學模式,培養更多優秀人才,同時把握發展機遇,積極參與粵港澳大灣區建設,加快科技成果轉化,更好助力澳門經濟適度多元發展。
澳大校長宋永華表示,經歷了40載發展歷程,澳大在百年未有之大變局下,在科技一日千里的浪潮中,持續變革創新,以積極與豐碩適應新形勢、新趨勢對人才培養和科研創新提出的要求。他向畢業生提出了三點希望:第一,以遠大理想抱負,勇擔時代重任。希望畢業生能夠築牢信念,樹立遠大理想,在時代變革中勇於擔當,堅定地做無愧於時代的答卷人,成為不負韶華、奮發有為的社會棟樑之才。第二,以開拓創新精神,引領時代進步。希望畢業生能保持朝氣蓬勃和開放自信,始終走在創新突破發展的前列,成為引領時代發展、貢獻社會進步的卓越人才。第三,以堅韌不拔毅力,迎接時代挑戰。希望畢業生在未來的道路上能錘鍊堅韌不拔的意志,以長風破浪的勇氣、一往無前的鬥志,迎接各種挑戰和困難,成為堅毅剛强、堪當大任的有為青年。
畢業生代表李子安致辭時感謝抗疫英雄在新冠疫情期間的無私奉獻,以及所有教授、同學和父母的鼓勵和指導。李同學分享了人生的座右銘:"把每一天當做人生的最後一天來過",以及一段親身經歷。初到校園時,李子安會穿過一個草坪到達教室,幾天後他發現走過的草坪上墊了一些石板。他鼓勵畢業生不要害怕走在一條鮮少有人走過的路,因為"我們可以開創我們自己的道路。而現在,當我們離開澳門大學開始新的旅程時,我也希望我們所有人能夠找到自己的路,走向光明的未來。"
今年共有1,181名來自澳大人文學院、工商管理學院、教育學院、健康科學學院、法學院、科技學院、社會科學學院、應用物理及材料工程研究院、中華醫藥研究院、協同創新研究院的博士、碩士和學士後證書/文憑課程的應屆畢業生獲頒證書,其中博士有250人,碩士有878人,學士後證書/文憑課程的學生有53人。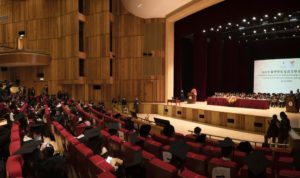 UM this year has produced over 1,000 postgraduates
澳大今年培養了逾千名研究生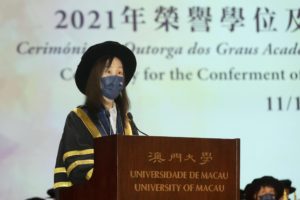 Ao Ieong U 歐陽瑜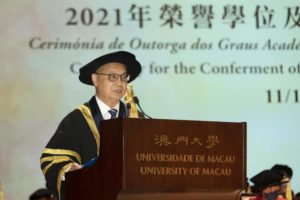 Yonghua Song 宋永華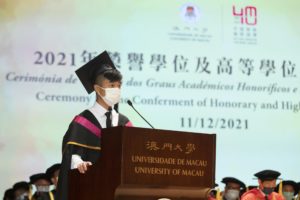 Li Chi On 李子安