Objectives
To provide students a good environment to understand the technology know-how, testing, service and set-up of modern motor vehicles.
To provide facilities for undergraduate projects and postgraduate research projects.
Facilities
1.6L, 1.8L & 2.0L DOHC VTEC Racing Engine Series
DOHC VTEC is an acronym for Double Overhead Camshaft Variable Valve-Timing and Lift Electronic Control. This type of engine uses electrohydraulic control system to vary both valve timing and valve lift according to the engine speed. With this technology, the engine can optimize its performance at different speeds. Each class of engine also installs extra sensors and actuators so as to enable the student to monitor and adjust the engine set-up via a programmable engine management system.
| | | |
| --- | --- | --- |
| | | |
| Honda B16A DOHC VTEC engine | Honda B18C DOHC VTEC engine | Honda K20A DOHC i-VTEC engine |
Programmable Engine Management System
| | |
| --- | --- |
| In general, the original car manufacturers lock the control parameters in their car engines having electronic fuel-injection systems. However, this programmable engine management system (EMS) can substitute for the OEM electronic control unit and allows the student to adjust the engine control parameters via a PC. In addition to engine tune-up, the EMS can also perform on-board diagnostic, real-time monitoring, data logging & analysis, traction control, speed limit control, launch control, knock control, cam control, electronic throttle control and closed-loop Lambda control, etc. | |
Variable Dual-Fuel i-VTEC Type-R Engine
| | |
| --- | --- |
| The variable dual-fuel engine is built based on a 2.0L Honda K20A DOHC i-VTEC Type-R engine.  An additional electronic fuel injection system, including fuel blenders, an adjustable fuel pressure regulator, fuel filter, secondary fuel injectors, a stainless biofuel tank and an advanced programmable EMS, is added to the original fuel injection system. The variable dual-fuel engine can dynamically mix some kinds of biofuels with gasoline and adjust the fuel mix ratio according to different driving conditions. With this advanced technology, the engine emissions, gasoline consumption and power can be further improved. | |
LAUNCH X-431 Scan Tool and Automotive Scope Meter
| | |
| --- | --- |
| Launch X431 scan tool adopts open diagnostic technology and carries PDA functions. The scan tool can use together with an automotive scope meter to concurrently read trouble codes, data stream, sensor waveforms, ignition signals and actuator responses of the vehicle for trouble diagnosis. Moreover, they can also connect to the PC for data logging. | |
500 HP Programmable Chassis Dynamometer and Eddy Current Engine Dynamometer
The chassis dynamometer (dyno) can simulate different road conditions in vehicle tests. The performance of a vehicle, such as horsepower, torque, engine speed and fuel consumption, can be easily measured by driving a car on the chassis dynamometer. The data obtained is very useful for vehicle examination and engine tune-up. The engine dyno measures engine performance indexes when the engine is out of the car. The engine dyno can also connect to the combustion analyser to measure engine cycle performance, such as the acquisition of indicator diagram.
Emission Gas Analyzers
The emission gas analyzers measure air ratio, engine oil temperature, engine speed, and the amount of CO, CO2, NOX, O2, HC and carbon soot in the exhaust. The purpose of making these measurements is to determine the health status of an engine and control the engine emissions.
Multi-belt Continuously Variable Transmission Test Rig
| | |
| --- | --- |
| | A multi-belt continuously variable transmission (CVT) is a self-developed system, which can overcome the deficiencies of single-belt CVT system such as low efficiency, low torque capacity and low durability. Student can implement different control strategies to optimize the transmission performance based on this test rig. |
Suspension Tester and Double-wishbone Hybrid Active & Semi-active Air Suspension
| | |
| --- | --- |
| This test rig consists of a suspension tester and a double-wishbone hybrid active and semi-active air suspension. The suspension tester can generate different ISO road surface profiles to test the performance of active/semi-active/passive suspension systems, whereas the air suspension provides a platform to students to implement their proposed control systems for ride-height, damping force and/or air-spring stiffness control. Moreover, the test rig can also be linked to professional car simulation software to conduct hardware-in-the-loop test. | |
Integral Shock Absorber Tester (ISAT)
| | |
| --- | --- |
| The main function of the ISAT is to provide a test on characterization and durability of the vehicle suspension components. The characterization test involves the application of one or more forces to evaluate the force-to-velocity relationship of dampers, shock absorbers, struts and other suspension components under development. Durability test aims at determining the life expectancy of automotive suspension components. | |
Distributed 4-wheel Drive Electric Vehicle Test Rig
The test rig consists of four wheel hub motors, programmable vehicle control unit, motor control unit, drive-by-wire unit, brake-by-wire unit, programmable dyno for simulating different road conditions, emulated electric vehicle battery, power charging and supply systems. All the units and motors are connected via a CAN bus. The test rig can test different energy control and vehicle dynamic control algorithms for distributive drive electric vehicles.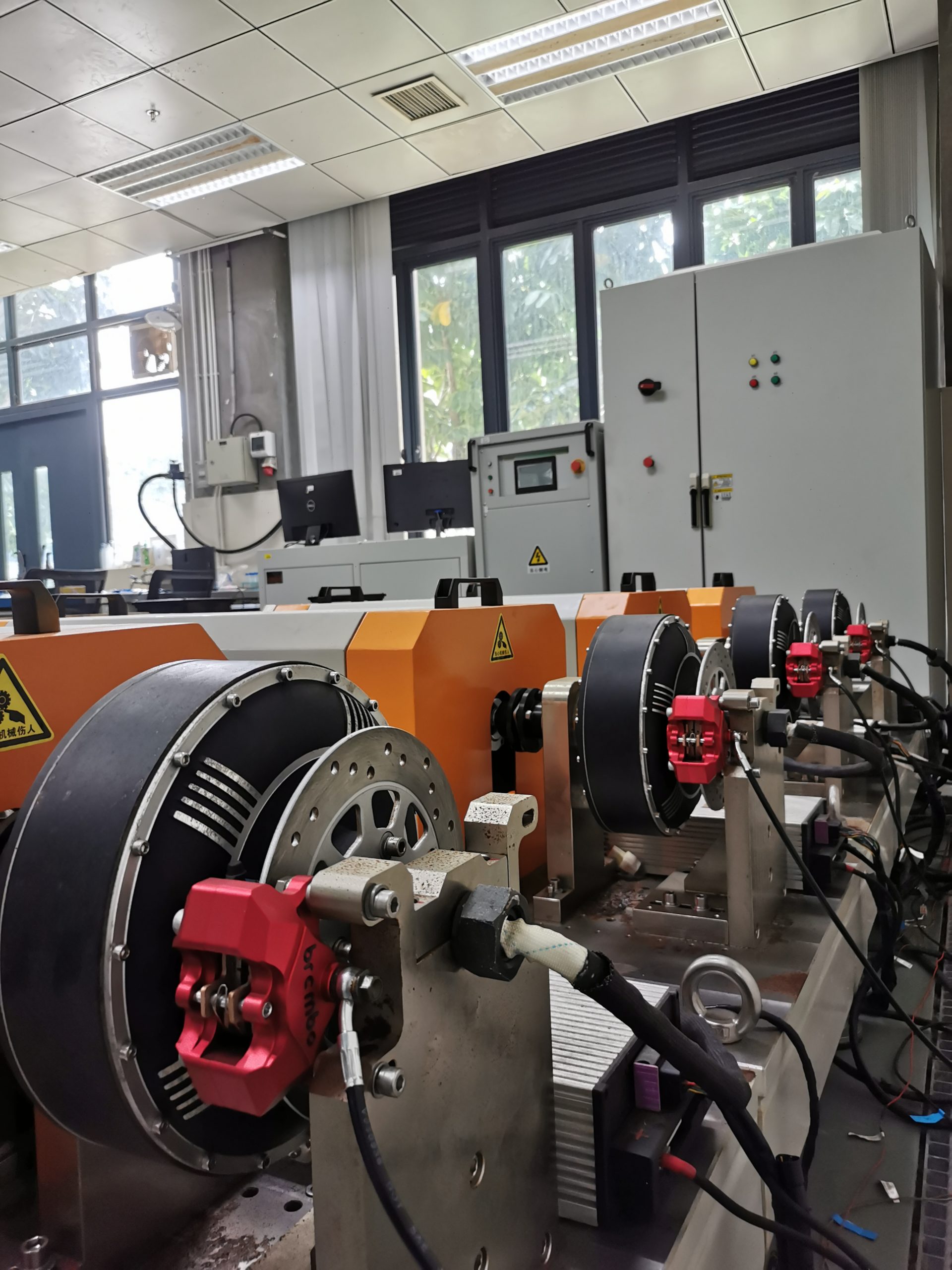 Experiments
Automotive engine tune-up using programmable engine management system.
Computer-aided vehicle diagnosis.
Gasoline and diesel engine emission measurement and control.
Performance analysis of motor vehicles using chassis dynamometer.
Emission and fuel consumption tests under different driving cycles and loads.
Practical vehicle and mechanical design appreciation.
Performance analysis of automotive transmissions and suspensions.
Energy management and control of electric vehicle powertrains
Motor vehicle service exercises.
Courses supported
| | |
| --- | --- |
| EMEN2006 | Machine Elements |
| EMEN3016 | Fundamentals of Automotive Engineering |
| EMEN3019 | Internal Combustion Engines |
| EMEN4000 | Graduation Project |
| ELMN7021 | Automotive Engineering |
| EMEN7996 | Applied Thesis |
| EMEN7998 | Project Report |
| EMEN7999 | Academic Thesis |
| EMEN8001 | Advanced Topics in Electromechanical Engineering (Advanced Automotive Engineering) |
| EMEN8999 | Doctoral Thesis |
Recent research projects conducted in the Lab
Hybrid Dynamic Modeling and Active Fault Tolerant Control on Multi-mode Switching Air Suspension Systems, Funded by Nature Science Foundation of China
Investigations on Regulation Mechanism and Dynamic Temperature Compensation System of Valve Controlled Adjustable Hydraulic Shock Absorbers, Funded by Guangdong Basic and Applied Basic Research Foundation
Adaptive Control of Vehicle Yaw Stability using Active Front Steering and Random Projection Neural Network, Funded by the University of Macau
Study on Dynamic Characteristics of Automotive Hydraulic Adjustable Dampers and its Application to Semi-active Suspension Systems, Funded by the University of Macau
Design, Control and Applications of a Novel Hybrid Active Air Suspension System for Automobiles, Funded by the University of Macau
Design, Calibration and Control of a Variable Dual-fuel Automotive Engine System, Funded by the University of Macau
Modelling and Optimization of Bio-fuelled Automotive Engines using Advanced Machine Learning Techniques, Funded by the University of Macau
Selected community service conduced in the Lab
Selection of Environmental Friendly Vehicles for Macau – Phases I & II, Institute for the Development and Quality, Macau (IDQ) and Environmental Protection Bureau of Macau S.A.R.
Evaluation on Environmental Friendly Taxis for Macau, IDQ and Environmental Protection Bureau of Macau S.A.R.
Testing and Evaluation of Tail Gas Filters for Macau Diesel Vehicles, IDQ, University of Macau (UM), and Environmental Protection Bureau of Macau S.A.R.
Pilot Test and Performance Evaluation of Electric Vehicles in Macau, UM and Companhia de Electricidade de Macau
Power and Emission Tests of Vehicles using Alternative Fuel, IDQ, Macau and Civic & Municipal Affairs Bureau of Macau S.A.R, (IACM)
Development of Diesel Smoke Lug-down Test for Macau, UM, IDQ and IACM
Collaboration
Our lab has connection with industry and local government departments.
Selected awards
FDCT Postgraduate Student Science and Technology Research & Development Award, 2014, 2016
Top five of Department, The Dean's Final Year Project List, Faculty of Science and Technology, University of Macau, 2013, 2015-2019
3rd Prize, 13th Challenge Cup – National Inter-varsity Science and Technology Competition, 2013
Excellent of Faculty and Best of Department, The Dean's Final Year Project List, Faculty of Science and Technology, University of Macau, 2012
Certificate of Merit, IMechE Greater China Region Design Competition 2012
Encouragement Award, National Instruments (NI) – National University Student Final Project Paper Competition  2009
1st Prize, 10th Challenge Cup – National Inter-varsity Science and Technology Competition
Champion, 2nd Motor Vehicle Technology, Development and Design Competition of Macau
First runner-up, 2nd Motor Vehicle Technology, Development and Design Competition of Macau
First runner-up, 1st Motor Vehicle Technology, Development and Design Competition of Macau
Second runner-up, 1st Motor Vehicle Technology, Development and Design Competition of Macau
2nd Prize, 8th Challenge Cup – National Inter-varsity Science and Technology Competition