Objective
Corrosion and wear is a considerable environmental nuisance because the valuable materials are damaged and wasted. A fully equipped accelerated corrosion testing laboratory provides both quantitative and qualitative corrosion testing and evaluation of different corrosion and wear mechanisms. In addition, the undergraduate laboratory work is designed to acquaint students with a practical knowledge of corrosion engineering and tribology. Facilities for undergraduate teaching and project-related work include a wide range of equipments such as potentiostat, vibratory cavitation tester, wear tester and coating facilities for wear and corrosion protection. Tests can be performed conforming to ASTM/ISO Test Standards. Metallography is the preparation of specimens for microscopic examination and the study of microstructure in relation to the physical and mechanical properties of a particular material. Facilities for undergraduate teaching include cut-off machine, hot mounting press, grinding and polishing machines, and furnaces to prepare specimens for microstructural observation by optical microscopes. Other facilities that acquaint students with a practical knowledge of mechanical properties include hardness testers and universal tensile tester. The laboratory can also provide supporting equipment for conducting experiments failure analysis and simple mechanical testing.
Facilities
1. Corrosion testers
Computer Controlled Electrochemical system (PAR VersaStat II)
The system includes :
Potentiostat/galvanostat;
Computer with real time data aquisition interface;
Electrochemical analysis software (PowerCorr);
Corrosion cell kit, flat cell, etc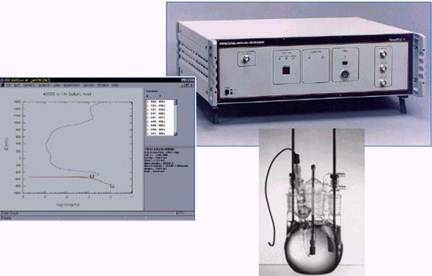 A computer controlled electrochemical system is a potentiostat which controls the voltage difference between a working electrode (specimen) and a reference electrode (saturated calomel electrode) in an electrochemical cell. It implements this control by injecting current into the cell through a counter electrode (graphite rods) and measures the current flow between the working and counter electrodes. The controlled variable in a potentiostat is the cell potential and the measured variable is the cell current. Corrosion behavior of materials can then be evaluated.
Experiments conform to the testing standards:
ASTM G5 Standard Reference Test Method for Making Potentiostatic and Potentiodynamic Anodic Polarization Measurements
ASTM G61 Standard Test Method for Conducting Cyclic Potentiodynamic Polarization Measurements for Localized Corrosion Susceptibility of Iron-, Nickel-, or Cobalt-Based Alloys
ASTM G71 Standard Guide for Conducting and Evaluating Galvanic Corrosion Tests in Electrolytes
ASTM G102 Standard Practice for Calculation of Corrosion Rates and Related Information from Electrochemical Measurements
ASTM G108 Standard Test Method for Electrochemical Reactivation (EPR) for Detecting Sensitization of AISI Type 304 and 304L Stainless Steels
ISO 12732 Corrosion of metals and alloys — Electrochemical potentiokinetic reactivation measurement using the double loop method (based on Cihal's method).
All-in-one Electrochemical Laboratory (VoltaLab 10)
The "all-in-one" potentiostat offers functions including Electrochemical Impedance Spectroscopy and Voltammetry. Electrochemical tests are conducted by the software VoltaMaster 4.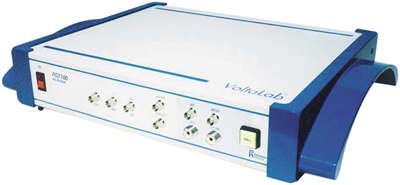 Experiment conforms to the ASTM standard:
ASTM G106 Standard Practice for Verification of Algorithm and Equipment for Electrochemical Impedance Measurements
Stress Corrosion Cracking System (Beijing ZhongFu, SCC-1)
Acknowledgement: This equipment is financially supported by the Science and Technology Development Fund (FDCT) of Macau SAR through research project FDCT 018/2007/A.
Stress corrosion cracking system is computer-controlled for monitoring stress-strain behavior at slow-strain rate and the free corrosion potential and hence the susceptibility of metallic materials to stress corrosion cracking can be evaluated.
Features:
Maximum load: 100 kN
Strain rate: 10-7~10-3 mm/s
Maximum strain: 150 mm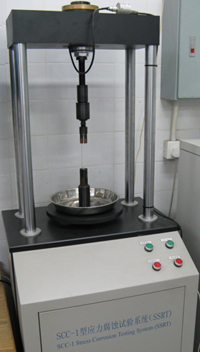 Experiment conforms to ASTM standard:
ASTM G129 Standard Practice for Slow Strain Rate Testing to Evaluate the Susceptibility of Metallic Materials to Environmentally Assisted Cracking
Salt Spray Tester (T-Machine TMJ-9702)
It provides durability and reliability tests under most of the environmental conditions, including high/low temperature, humidity, salinity, etc.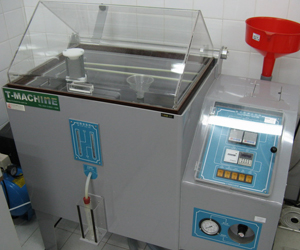 Experiments conforming to ASTM standards:
ASTM G85 Standard Practice for Modified Salt Spray (Fog) Testing
ASTM B117 Standard Practice for Operating Salt Spray (Fog) Apparatus
ASTM G31 Standard Practice for Laboratory Immersion Corrosion Testing of Metals
2. Erosion and wear testers
Vibratory Sonicator (Sonics VC 750)
It is an ultrasonic generator which can transform alternating electric currents into mechanical oscillations, ultrasound produced with frequencies up to about 20 kHz. As the horn move up and down in the test solution, it leads to pressure fluctuation. Cavitation results in the formation of very small bubbles which implode and damage the surface of materials. Cavitation erosion resistance of materials and coatings can then be evaluated.
Experiment conforms to ASTM standard:
ASTM G32, Standard Test Method for Cavitation Erosion Using Vibratory Apparatus
Tribometer (Tribotech 022-0075-C)
Acknowledgement: This equipment is financially supported by the Science and Technology Development Fund (FDCT) of Macau SAR through research project FDCT 018/2008/A.
It is a pin-on-disk type wear tester for studying the friction and wear properties in sliding contacts. Sliding occurs between a stationary pin and a rotating disc at a fixed speed (0-2000 rpm).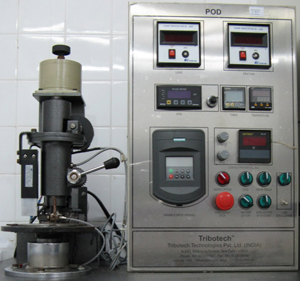 ASTM G99 Standard Test Method for Wear Testing with a Pin-on-Disk Apparatus
3. Coating Facilities
Electro-spark Deposition System (SparkDepo-500)
The Electro-spark deposition (ESD) is a new surfacing process by depositing an metal (Ni, Co, Cu, or Al) or a hard coating (WC, TiC, TiB2, Cr3C2, VC) on a substrate material. It transferred the stored energy by means of electric sparks from rotating consumable electrode to the substrate material in a very short duration. The temperature at the tip of the electrode is about 8,000 to 25,000oC and ionized material is transferred to the surface of the substrate producing an alloyed layer of deposit. A diffusion layer is produced at the interface of the substrate and coating providing excellent bonding. It can used be for preventive maintenance of various machine components, tooling, dies, molds, etc.
Flame-spraying and Weld-overlaying Facilities
Coatings can be applied by flame-spraying / conventional welding for corrosion/wear protection.
Electrophoretic Deposition (EPD) System
Electrophoretic deposition (EPD) is a promising technique, with advantages including short formation time, simplicity in instrumentation, and capability of depositing ceramic coating on complex-shaped object. It is a colloidal process which offers easy control of thickness and quality of coating through simple adjustment of the deposition time, applied potential and powder morphology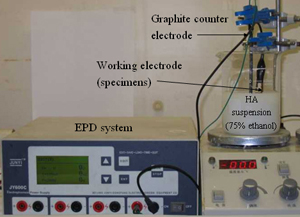 Coating Thickness Gauge (Elcometer, A456FNFBI1)
The thickness of coatings on ferrous and non-ferrous alloys can be measured by the hand held coating thickness gauge.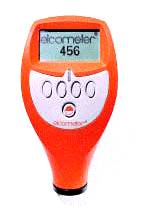 4. Facilities for sample preparation
Cut-off machines
Low speed diamond cutoff saws offer the flexibility to cut through almost any material yet remain gentle enough to maintain the surface integrity needed for microstructures examination.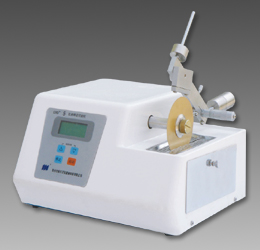 Hot mount press
Samples are mounted to protect fragile or coated materials during preparation and to obtain good edge retention. Mounting is also used to produce specimens with uniform size.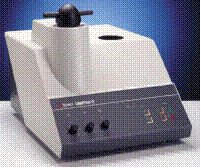 Grinding and polishing
Abrasive particles are used in successfully finer steps to remove material from the surface, until a mirror surface is reached.
| | | |
| --- | --- | --- |
| |   | |
| Grinding machine | | Polishing machine |
Furnaces
Thermal treatment of materials up to 1100 oC can be done by furnace in ambient or vacuum environment to achieve different microstructures.
| | | |
| --- | --- | --- |
| |   | |
| Furnace | | Vacuum furnace |
5. Optical Microscope with Digital Camera (Meiji, IM7000)
Metallographical analysis of polished and etched replica can be studied by the inverted optical microscope of magnifications up to 1000X. The thickness of coating can be verified from the cross-sectional view of the replica.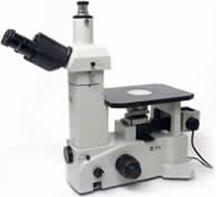 6. Micro (MHV2000) and Macro (AFFRI 206EXS) Hardness Testers
Indentation hardness measures the resistance of a sample to permanent plastic deformation due to a constant compression load from a sharp object. The tests work on the basic premise of measuring the critical dimensions of an indentation left by a specifically dimensioned and loaded indenter.
| | | |
| --- | --- | --- |
| |   | |
| Micro-hardness tester | | Macro-hardness tester |
Experiment conforms to ASTM standard:
ASTM E18, Standard Test Methods for Rockwell Hardness of Metallic Materials
ASTM E384, Standard Test Method for Knoop and Vickers Hardness of Materials
7. Digital test stand (Chatillon LTCM-500)
The Chatillon LTCM-500 test stand may be used for tensile, compression, peel and flexural testing when combined with a 2500N Chatillon DF Series force gauge. The speed range is 5 to 500mm/min and has a resolution of 0.1mm/min.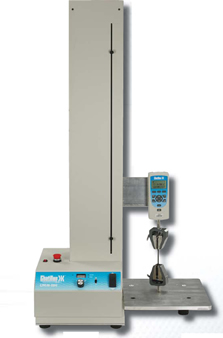 8. Other Facilities
Fume Cupboard
Water quality Checker (TOA WQC-20A)
Hydrocheck Water/Effluent Testing System (WPA HC6000)
Courses supported
| | |
| --- | --- |
| EMEB121 | Engineering Materials |
| EMEB351 | Advanced Materials for Engineers |
| EMEB355 | Corrosion, Wear and Degradation of Materials |
| EMEB410 | Design Projects |
| ELME702 | Physics of Materials |
| ELME717 | Special Topics in Manufacturing I: Laser Materials Processing |
| ELME718 | Special Topics in Manufacturing II : Surface Engineering |