Objective
Lasers have been applied extensively in industry. They are usually used for cutting, welding, drilling, surface modification, etc. The purposes of this laboratory are
To allow the students to have some ideas of laser technology in manufacturing processes.
To provide facilities for students' final projects and MSc and PhD students' theses.
To serve local industries.
Facilities
1. Corrosion testers
Laser System
The laser system consists of the fiber-couple diode laser module (Laserline LDM 1000-1000) and the CNC XYZ table. Diode laser with near infra wavelength provides high energy absorptivity to metals.
Specifications
| | |
| --- | --- |
| Classification | Class IV |
| Central wavelength | 900 – 990 nm |
| Maximum power | 2300 W |
| Beam quality | 110 mm rad |
| Optical fiber | 1000 μm |
Steps for laser processing:
Design scanning sequences with the aid of drawing software, such as AutoCAD and Corel Draw.
The drawing is converted to a CNC program that can be recognized by the controller of the CNC machine.
Adjust the desired power level and scanning speed of the laser machine.
The laser beam is transmitted through an optical fiber. The high energy beam acts as a heat source and is controlled by the CNC machine for processing.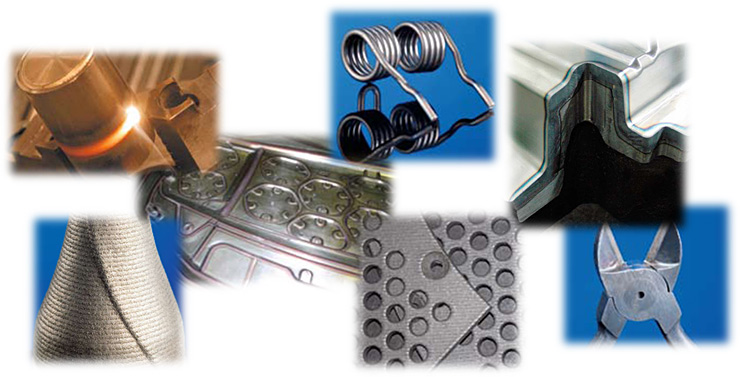 Applications of laser:
Diode lasers are increasingly used in cladding and coating applications as well as in repair welding for improving corrosion and wear resistances. With a wide range of applications, they have proven themselves to be an extremely innovative technology.

Advantages: tailor-made surface properties, applicable for small area
Diode lasers reliably meet all hardening requirements for improved wear protection of machine components, tools, accessories and other implements.

Materials: steel with carbon content > 0.25%

Advantages: localized, high speed, automated, minimum heat distortion, controllable treatment depth
Diode lasers have excellent beam quality which makes them particularly efficient for melt and blow as well as for oxygen cutting. The compactness of diode lasers provide a whole new degree of mobility in this application.

Advantages: precise, high speed, automated, low heat input, minimum heat distortion, dross free for most materials, good edge quality.
Diode lasers are used in a wide range of metal welding applications in industrial high volume manufacturing. For example: spot welding in the automotive industry.

Advantages: precise, high speed, automated, excellent weld quality, low heat input, minimum heat distortion, high weld aspect ratio, no filler metal needed.
Experiments
Laser transformation hardening
Laser surface alloying
Laser welding
Laser cutting
Courses supported
| | |
| --- | --- |
| EMEB121 | Engineering Materials |
| EMEB351 | Advanced Materials for Engineers |
| EMEB355 | Corrosion, Wear and Degradation of Materials |
| EMEB410 | Design Projects |
| ELME702 | Physics of Materials |
| ELME717 | Special Topics in Manufacturing I: Laser Materials Processing |
| ELME718 | Special Topics in Manufacturing II : Surface Engineering |