Objective
The laboratory provides both undergraduate and graduate students for researches in finite element analysis of thin-walled structures. It also provides the software and space for undergraduate and graduate students to work on their thesis about relevant researches topics.
Facilities
MTS Universal Testing Machine
Universal Testing Machines (UTM) applies for high-capacity tension and compression testing. Featuring long test stroke (150mm) and low to high loading frequency, these frames are available in 250kN capacities.
Testing Applications
Metals—Bar, Plate, Pipe & Tube, Rebar, Structural
Wire—Rod, Strand
Concrete—Cubes, Cylinders, Beams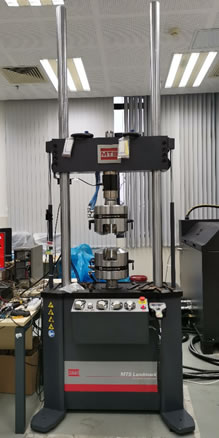 MTS Universal Testing Machines (250 kN)
Courses supported
| | |
| --- | --- |
| CIVL3004 | Reinforced Concrete Design |
| CIVL4007 | Advanced Reinforced Concrete Design |
| CIVL4000/4001 | Graduation Project I / II |