Objective
Tribology is the science of friction, lubrication and wear. It is the study of interactions between two moving bodies that are in contact with each other. The purposes of this laboratory are
To allow students to have some ideas of tribology and friction stir welding technology in manufacturing processes.
To study new surface coatings for improved tribological performance.
To provide facilities for students' final projects and MSc and PhD students' theses.
Facilities
1. Friction stir welding (FSW) machine (FSW-TS-M16)
FSW is an advanced welding technology, which can fabricate high quality welds with a rotating pin. Welding is promoted by localized frictional heat that softens the material around the rotating pin. A high consistency of microstructure is obtained and melting defects such as crack, porosities, etc could be prevented. Friction stir welding has been highly adapted in automotive, aerospace, mining and railway industries. The FSW equipment in Tribology laboratory is
Application: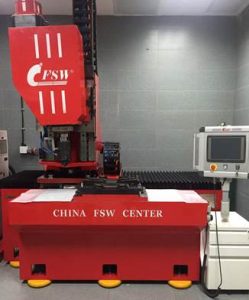 1. Aircraft:
Aircraft body and cooling plate
2. Railway:
Railway train body
3. Automobile:
Automobile wheel and battery tray for electric vehicle
4. Heat sink:
Heat sink and cooling plate
2. Pin-on-disc tribometer
The wear of materials under various test conditions can be conducted using a tribometer. Electrical sliding wear tests can be performed in dry, wet and lubricated conditions such that research on tribo-corrosion behavior of materials and effect of lubricants can be conducted.
Courses supported
| | |
| --- | --- |
| EMEB121 | Engineering Materials |
| EMEB351 | Advanced Materials for Engineers |
| EMEB355 | Corrosion, Wear and Degradation of Materials |
| EMEB410 | Design Projects |
| ELME702 | Physics of Materials |
| ELME717 | Special Topics in Manufacturing I: Laser Materials Processing |
| ELME718 | Special Topics in Manufacturing II : Surface Engineering |